Original Series
The original battlestar Galactica TV series was on air in the late seventies and early eighties.
Battlestar Galactica (1978)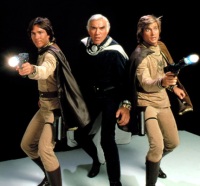 The show was originally created and produced by Glen Larson who thought up the idea in the 60s. It was originally called Adam's Ark. But he couldn't get the project of the ground for financial reasons until Star Wars became such a hit in 1977.
To begin with, Battlestar Galactica was planned as a set of made-for-TV movies (a 3 hr pilot program plus two 2 hr episodes) for ABC.
Then, in 1979 the TV series won"Best New TV Drama Series".

To begin with 17 episodes of the series were made. Following that, a TV movie called Galactica 1980 was produced and Battlestar Galactica was made into a weekly TV series. It was canceled after just ten episodes due to falling ratings.
Video Clip of The Original Series...Battle Stations!!

The Plot
In the 1980 series, the Colonial fleet finds Earth, and then sets about protecting it from their arch enemies: the Cylons. Unfortunately, budgets were low (the new show was set mostly on Earth,as they couldn't afford lavish sets.
Another reason for its dissapointing showing was that the cast members kept getting replaced.
Despite these problems, Battlestar Galactica maintained a cult following, which ultimately led to the series being ressurrected in 2003 (to widespread acclaim). There are plans for a Hollwood blockbuster too at some point.
The Original 1978 series starred Lorne Greene (shown above), Richard Hatch and Dirk Benedict.